VALUED CUSTOMERS & FRIENDS
+
Thank you Travis Longcore, Walker Wells, and John Zinner for teasing out the trade-offs we all face in beautifying Los Angeles at Dwell on Design. After discussing how our landscaping choices affect our ability to stay cool, we are even more committed to throwing some shade (in a good way)!
Sincerely,
Cassy and Kirk Aoyagi
July is bringing the heat. Heading to the beach isn't the only way to cool down. Here are a few ways to beat it right in your own backyard.
LEED with New Landscape Standards
By Cassy Aoyagi: In LA, our landscapes will determine key facets of our resilience. Travis Longcore of the University of Southern California, Global Green's Walker Wells, and John Zinner of Zinner Consultants, share their perspectives on how a new (LEED-like) landscape standard can secure a healthy future for the city. Read More
Lower Your Energy Bills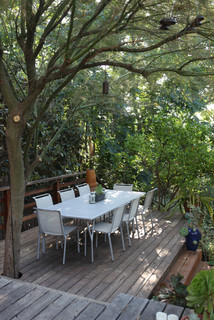 By U.S. Department of Energy: Optimally sustainable landscaping doesn't just beautify and save water, it slices energy costs. The savings can be significant. Read More
Save Green? Grass vs. Gravel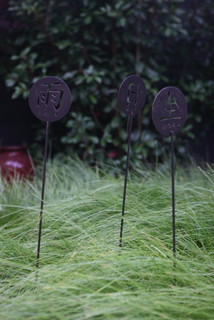 By Cassy Aoyagi: Many Angelenos swapped turf grass for gravel to save water and a little green. Now that the turf rebates have dried up, we look at the relative trade-offs between grass and gravel, water and energy savings. Read More
While some natives and drought tolerant plants do go dormant during the hot, dry months of summer, others revel in the heat and put on a spectacular show.
Manzanita brings year round wow factor with its glossy green leaves and striking mahogany colored, architectural branches. It brings a little something extra in July when it explodes with firework-like blooms. Check out what's Blooming Now
Los Angeles is expected to be a dry county through the summer, but that doesn''t mean your garden needs to look desiccated! We''ll be putting extra effort into keeping native gardens vibrant and party ready. We will:
Beautify for BBQs!
Rinse foliage to keep it lovely and improve transpiration in high heat
Prune Oak Trees to maintain form and shade
Mulch to refresh garden beds and retain water
Clip the prettiest cut flowers and foliage for indoor bouquets
Set the stage with extra lighting, heating and container gardens at party time!
Protect Garden Beauty from Drought:
Change timers to comply with local ordinances day and time restrictions.
Manage timers for optimal watering (DYI? Check the BeWaterWise Calculator to determine the right schedule for your garden.)
Eliminate run-off, overspray and leaks
Water by hand where necessary
Give mature trees a deep soak once a month
Ensure native are not being overwatered – they dig the heat!
July 2016
Develop Landscape Standards
Lower Energy Bills
Save with Grass or Gravel
USGBC Greenbuild Tours
Blooming Now
Sustaining Your Garden
Team Trainings
Our Front Garden
October 3: Greenbuild Birds and Bees (Three Garden) Tour
FormLA Landscaping teams stay on top of the latest techniques and technology with frequent in-house training.
Designer Isara Ongwiseth caught a Western Fence Lizard enjoying the sun in FormLA's front garden.
Cassy and Kirk Aoyagi, Principals: Cassy@formlainc.com

Mark Britten, Production Manager: Mark@formlainc.com

Sam Souhrada, Maintenance Division Manager:
Sam@formlainc.com