Date:  Sunday, April 17, 2016
Time: 10:30 am to 4:30 pm
Location:  Self-guided for ticket holders (Foothill communities)
Tickets:  On sale now!
Please join us for the 22nd annual  Art of the Garden tour! The self-guided tour, known for featuring noteworthy foothill-area gardens, will feature five low-water gardens, including three created and maintained by FormLA Landscaping.
Each FormLA garden demonstrates the
New Look for LA
, an aesthetic that can be achieved only in LA's Mediterranean climate.  The look's hallmarks include lush and leafy year-round foliage and varied, permeable path, patio and drive materials.  Like Los Angeles itself, the new LA aesthetic is expressive, creative and diverse. It delivers knock out curb appeal to some of LA's most distinctive architectural styles.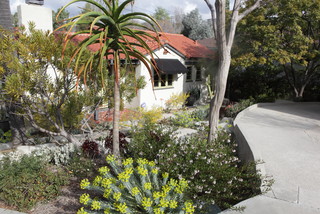 A lush and leafy garden with bountiful blooms surrounds the traditional home with birds and butterflies. Rich with greenery in the winter, the garden blooms from spring through autumn.  An edible garden also delivers seasonal delights, and an outdoor great room also welcomes year round use.
The plant palette for the southwestern garden draws attention to the home's terra cotta tile roof.  Deep green, bronze and mahogany foliage offers depth. Chartreuse blooms and blue-grey grass brings contrast. Terra cotta tipped aloes and occasional coral blooms provide punctuation.
This Mediterranean garden earned a La Canada Valley Beautiful award that recognized its "understated yet elegant" way of "beautifully complementing the home's French architectural style." The San Gabriel chapter of the USGBC also recognized its beauty alongside its water-saving performance.  The established front garden greets visitors with fragrant French lavender, tuscan rosemary and creeping thyme.  The newly installed backyard is a playground complete with outdoor kitchen and living spaces alongside putting greens.
All proceeds from the Art of the Garden tour benefit the
Creative Arts Group
, a non-profit offering art classes to the local community.