Eclectic Landscapes Mix Clean Simple Lines with More Traditional Styles
You like the clean, simple lines of modern landscapes, although your home is of a more traditional architectural style. You are not alone! There are ways to ensure updated, modern landscapes compliment existing structures. This will enhance curb appeal and home value alongside a fresh, creative, distinctive aesthetic.
Clean and Bold Mix for a Distinctive LA Style 

This Spanish-style home in Pasadena features clean, modern outdoor living spaces surrounded by distinctive drought tolerant foliage from our New (Bold) Look of LA plant palette. The traditional terra cotta bolsters of this seating area further unify this modern built-in seating further unify the landscape aesthetic with the home's architecture.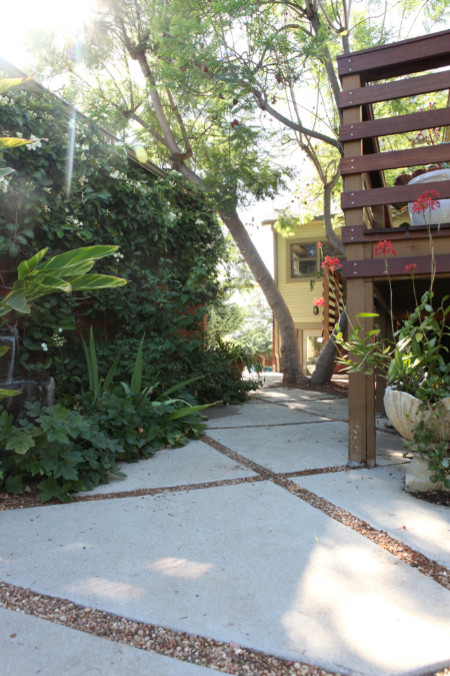 Eclectic Echo Park Cottage with Modern Flair
An Echo Park Cottage features this walk of concrete pavers warmed by sepia-toned gravel joints.
Beyond the walk, decomposed granite patios and lush, leafy California native foliage from our New (Natural) Look of LA plant palette unifies the aesthetic. The property also integrates modern furnishings, a simple way to bring the overall aesthetic together.


Modernity and Tradition Walk Hand-In-Hand
Another option is to install a landscape in keeping with your architecture, but indulge your love of modern design in furnishing. Here, modern pebble seating and a fire pit from Potted and custom container gardens give a traditional garden a fresh feel.
The rest of the landscape uses decomposed granite trails, reclaimed rock, and foliage from our New (Classic) Look of LA plant palette to ensure this classic home maintains a sustainable, unified aesthetic.