A Rose By Another Name May Be Even Sweeter
It won't be long until the run for the roses – in California as well as Kentucky.  If you are enchanted by the smell and dramatic blooms of roses, we have a few roses by another name that might suit your fancy.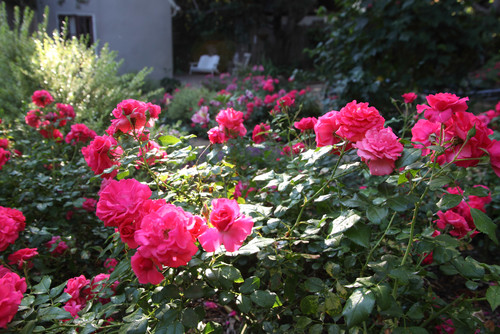 Rosa Californica
Native California roses have many of the charms – and the draw backs – of traditional roses.  Their blooms are lovely and do smell quite as sweet. Its foliage is deciduous and has thorns. On the plus side, it is among our native edibles, their hips can be made into a lovely tea.
Unlike traditional roses, Rosa californica will hold their blooms through the summer and often in autumn as well.
In the wild, Rosa californica adores sun at the coast but prefers shade, partial shade and even riparian environments inland.  In either location, they can manage through drought.  When they are happy, they will form thickets.
In the garden, native roses will appreciate supplemental water or placement in a shady bioswale, particularly at higher elevations.  They will handle El Nino and winter floods just as well as they handle drought.  A great plant for privacy, Rosa californica can become quite robust.






Traditional Roses
If we haven't convinced you of the California native's charms, it might not be the end of the world. After all, the indubitable Emily Green once noted: "The toughness inherent in even the showiest rosebushes might surprise us. The rose is at heart a bramble."
Roses do not actually need all the pomp and fuss we give them.
For a rosy but water wise aesthetic:
– Create isolated beds of roses
– Integrate roses into beds of other cut flowers
– Create a seasonal focal point