Create a Classic Landscape Perfectly suited to your home and lifestyle

You like looks that have stood the test of time. There is no reason you can't have the classic lawn and roses that make your heart sing. Exchange a few ingredients, and expanses of lush greenery, fragrant banks of flowers, and elegant hardscapes can survive baking in the heat of LA's heartiest drought.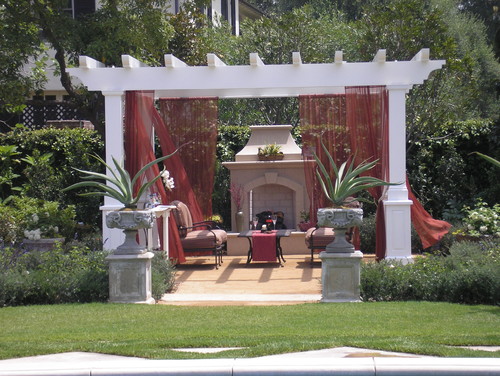 Discover the Classic Garden for Your Architectural Style
Traditionally, LA's classic landscapes surround European-inspired architecture. The city hosts commanding examples of English Manor, French chateau, and Italian Revival architecture.
While each of these styles has distinctive charms, they are often surrounded by a formulaic mix of stone walks and drives, Kentucky bluegrass and cultivated blooms. That aesthetic is only truly authentic to English gardens.
Rather than applying the same landscape formula to each of these architectural styles, why not approach your landscape redesign as you might an interior remodel?
Your dream landscape will likely be revealed by considering the classic landscape paired with your home's architecture and evaluating it's applicability to the current day. For example, this knot garden, traditional for French chateaus in Normandy, provides a delightful place to stroll alongside structured greenery and outdoor statues from Normandy provided by Charme d'Antan.


Identify Classic or Adored Aspects of Architecture for Repetition

Create grandeur and elegance by repeating architectural themes in landscape structures. The brick seating that tops this rock wall, for example, mirrors the brick siding of the home. If possible, reclaiming materials from elsewhere in the home creates optimal consistency.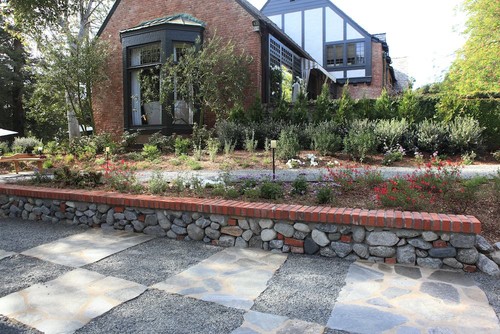 Give Your Home a Sense of Place

The landscape is an opportunity to unify an imported architectural style into its new environment. Here, a stairway of blue stone reclaimed from the site provides a striking approach to the home. Lush and leafy foliage evokes European greenery, but each species is native to the area. For examples of California native foliage evocative of classic European landscape styles, see the New (Classic) Look of LA plant palette.