Substantial Structures, Vibrant Contrasts in Color Create a Bold Look

Your home's architecture has substantial, colorful details. To bring out its best, your dream landscape has bold contrasts in color. Patios, walks and drives also carry a certain weight.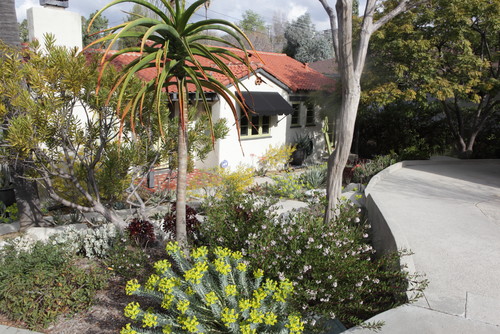 Terra Cotta and Blues or Greens Create Contrast
Terra cotta tile is a natural choice for patios and walks, as it complements a tiled roof. Decomposed granite joints add needed color neutrality and also allow the walk to absorb water that can feed nearby foliage.
Bright or peacock blues, either in foliage tone or in accents like the handblown jug pendants shown below create high contrast and visual intrigue. Yellow-greens will have much the same effect.
Neutrals Pop Foliage
A range of neutrals like the dark brown concrete pavers and decomposed granite featured here provide a solid backdrop for terra cotta features and bright coral flowers.
Because the furnishings as well as the patio and walk materials are understated, the foliage surrounding them appears bolder, greener. To complete a bold landscape with compelling foliage in keeping with Spanish architecture, see the New 
(Bold) Look of LA
 plant palette.