Support Your Life and LA with a New Take on the Traditional Landscape

You look for aesthetics that have stood the test of time – meaning centuries. Classic and elegant fashions appeal to you, and you revel in a space where all the details feel warm, welcoming and in tune with one another. Your architecture may have historic relevance – and your homeowners association or historic preservation overlay zone (HPOZ) may require a certain aesthetic.


Low-Water Lawn
You may experience more resistance than most when you think of losing your lawn. Maybe you like how lawns unify the community aesthetic, feel nostalgia for games played on backyard turf, or simply enjoy having an expanse of open greenery. A traditional turf grass aesthetic can be kept when installing a water and time saving IdealMow lawn.


Refer Back to the Architecture
If your walls, walks and drives reflect the developer's standard concrete, you may experience a greater sense of harmony if they repeat architectural themes. Here, the brick seating mirrors the brick siding of the home. If possible, reclaiming materials from the home creates optimal consistency.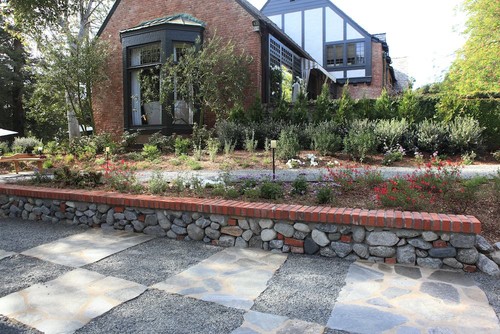 Exchange Blooms
You may have strong attachments to certain foliage. Is it the roses? The camellias? We created our plant exchange to help! With more than 6000 plants native to California, there is almost always a bloom aesthetically similar to one that holds your heart.


Look Back to Move Forward
Another way to envision a landscape that will feel just right is to take inspiration from the landscapes historically associated with your architectural style. The landscape is an opportunity to unify an imported architectural style into its new environment. For example, this low water landscape keeps time with the home's French Provincial architecture.




When the landscape that complements LA's climate also amplifies your life and your architecture's curb appeal, it won't feel like a sacrifice. It will feel like you've achieved what was always meant to be.

More Information
For examples of California native foliage evocative of classic European landscape styles, see the New (Classic) Look of LA plant palette.